There is something that is just so Canadian about skating outside. It often makes me think of the iconic children's book The Hockey Sweater and my own memories of skating on frozen lakes as a child. Hamilton has well over 30 outdoor rinks. They are located in city parks and run by volunteer committees.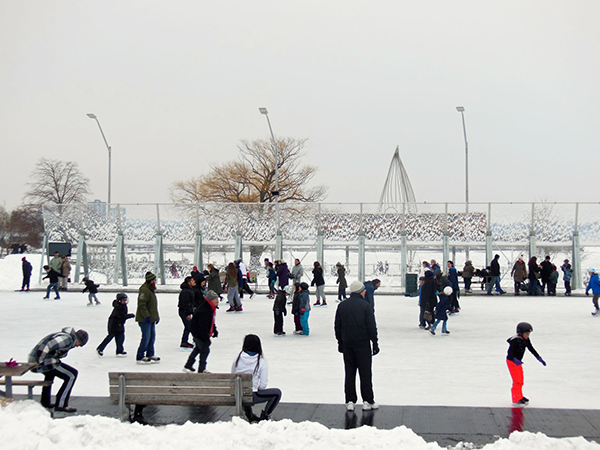 The popular rink at Pier 8 on the Hamilton Harbour is managed by the Hamilton Waterfront Trust. Last year, that's where I decided to skate, probably for the first time in at least 20 years. I cleaned up an old pair of skates that had been hanging in my parents' garage and took them to the rink where they sharpened them for five bucks in the skate rental concession booth. They even got rid of some of the rust! It was a frigid day, so my husband and I laced up in the common area attached to Williams Fresh Café (when it's nicer out, there are plenty of benches outside to put your skates on, as well).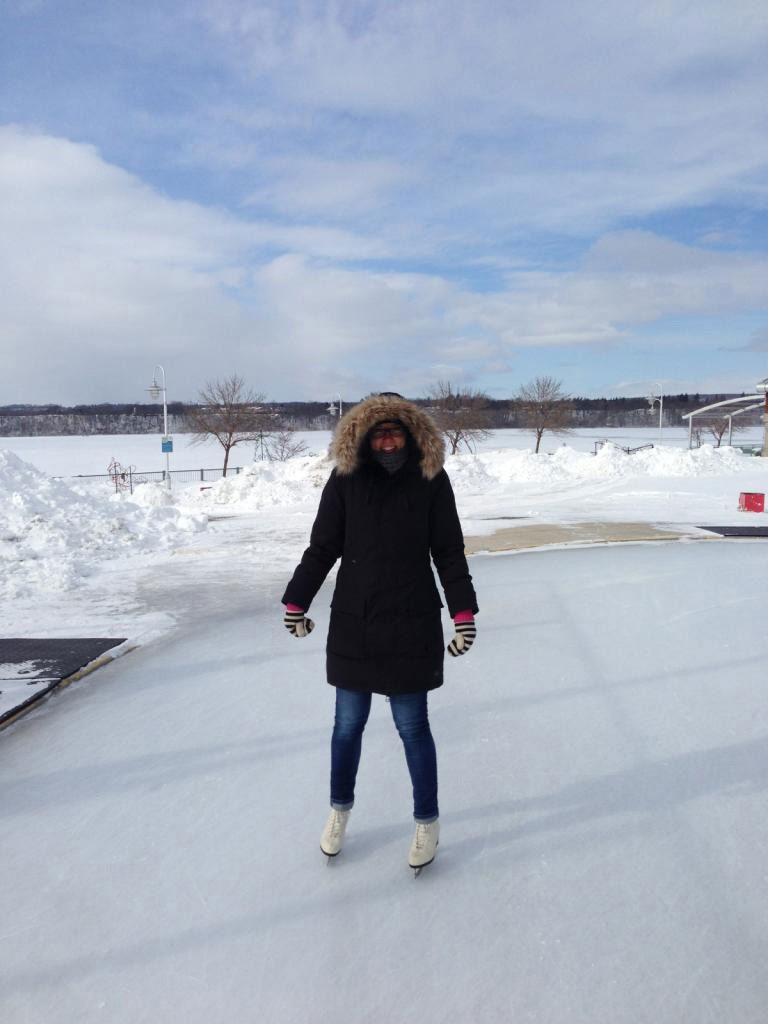 All bundled up, I hobbled out to the ice. You would think ice skating is like riding a bike, right? Well, sadly, in my case no. I felt like Bambi, awkwardly finding my balance as a newborn deer. Luckily my skates are old-school figure skates with the toe pick, so I was able to catch the ice as I tried to remember what it was like to glide smoothly and not break something. Because of the chilly temperatures, the ice wasn't too busy, so I was comfortable half shuffling, half skating, around the ice as my husband nimbly skated around me like Elvis Stojko. In one direction, it was so windy I was pushed along and didn't need to do a thing. But as I circled around more and more, I started to get the hang of things again—until I couldn't feel my toes. Then it was time to warm up with a hot chocolate. Besides the convenient Williams Fresh Café, which is right on-site, we also like to hit The Burnt Tongue for hot soup, which is a short drive away on Cannon Street at James Street North.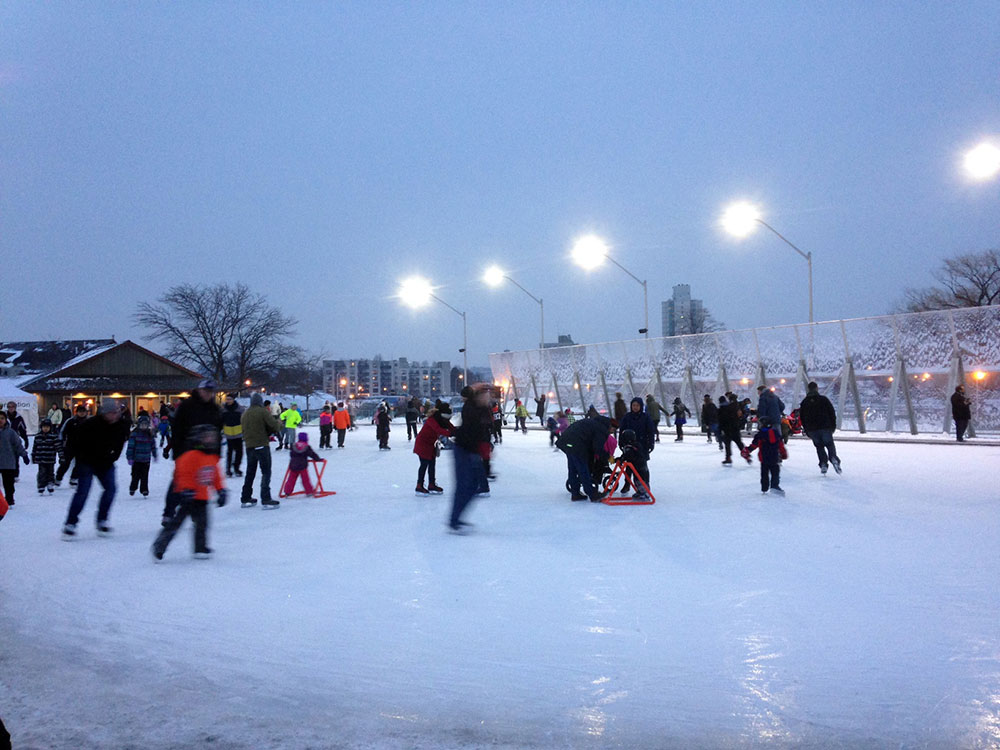 You can tell that skating is a popular date night activity. At Bayfront, the lights come on at dusk and the rink is open daily until 11 p.m. It's quite romantic, skating arm in arm—or being pulled along, whatever.
But of course now that I was slowly getting better, I wanted to skate all the time. I live a short walk from the Dundas Driving Park, so that's a nice little rink to practice on. One day as I was walking by in a snowstorm, a dedicated local resident was shoveling off the surface himself for a few eager kids that were waiting. A frosty bike ride into Westdale on another afternoon revealed a rink in Churchill Park. According to the city's listing, there are rinks from east to west. And if you don't have skates of your own, Pier 8 rents them out for only $6.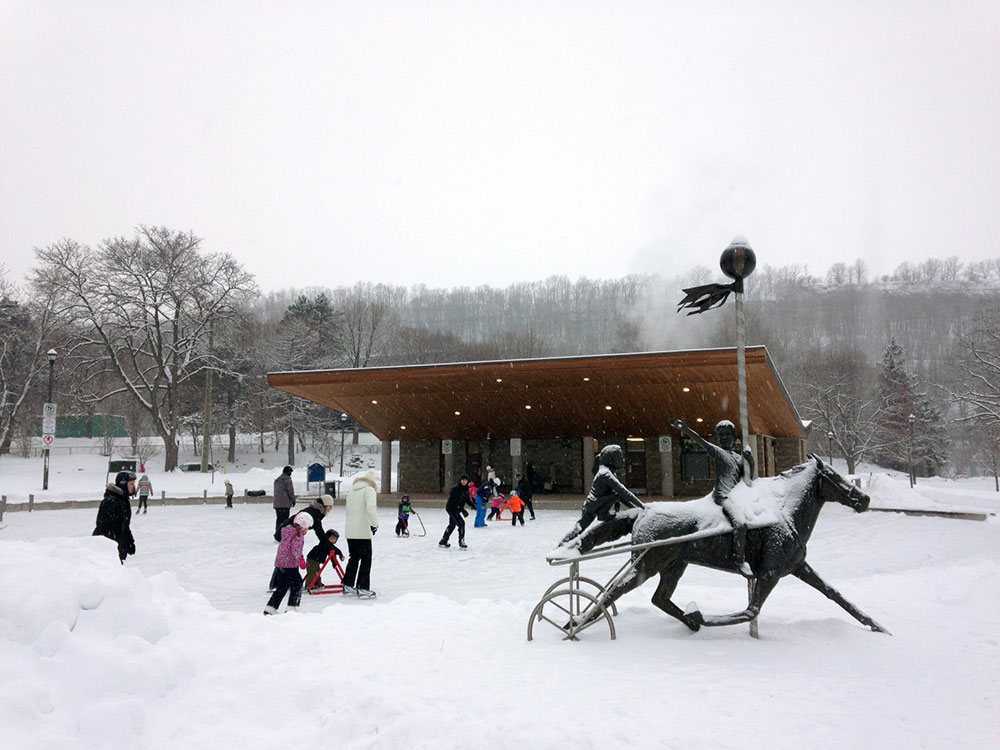 You must add an outdoor skate to your winter list of to-dos. I find that embracing winter sports and activities helps make the cold temperatures that much more bearable.
---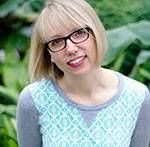 Tara Nolan is a Dundas-based freelance writer with a passion for exploring the outdoors. Tara loves to write about mountain biking, gardening and other active pursuits for a variety of print and online publications. Follow her on Twitter @thattaranolan and Instagra @tara_e. Her blog The Outdoor Explorer reveals Hamilton's stunning outdoor spaces, from nature trails and waterfalls to conservation areas, farms and gardens. Whether you want to walk, hike, bike or paddle, discover where to seek out your next outdoor adventure – all minutes from the city's core.