Hamilton's artistic scenes are booming – from music to visual arts, and fashion to food, we're brimming with talent. One creative pocket that I don't think gets enough attention is Hamilton's comedy scene. We have a tight-knit, supportive, and hilarious comedy scene that I've been able to connect with through my travels. Each new comic I've had the pleasure of meeting has his or her own style and it's rewarding to watch the scene grow.
If you aren't well versed in Hamilton's comedy scene, let me tell you, there are lots of places to catch live comedy in the city, almost every night of the week, and I highly recommend you do. Here's a quick rundown of just some of the rooms:
---
It goes without saying that Yuk Yuk's is a Canadian comedy institution. Yuk Yuk's Hamilton first opened on Upper James in 1984, but made its move to the downtown core in November 2013. And nothing says downtown like Jackson Square, am I right? Yuk Yuks Hamilton is next to Jackson, above Anchor Bar, making it super easy to have a night on the town – dinner and a show.
There are lots of stages in the city to catch comedy but it's a cool experience being at Yuk Yuk's knowing that's what the venue was built for and seeing the legacy of comedians in framed photos along the walls, revealing decades of history. If you frequent Yuk Yuk's clubs you may have already enjoyed a set or two performed by Manolis Zontanos, Patrick Coppolino, Anthony Mlekuz, Mayce Galoni, and Kyle Radke, who are all Hamilton comics that Yuk Yuk's has signed to their roster.
If you are looking for an introduction to Hamilton comedy scene, Yuk Yuk's Wednesday's Amateur Night, is the place to be. Hosted by local comic and filmmaker Patrick Coppolino, you'll enjoy a range of talent, from new comics to a headliner with some experience under his or her belt. Yuk Yuk's Hamilton also has feature shows throughout the week where you can see acts by big name comedy stars – recent shows have included Tom Green and Rita Carrey.
---
Emerson 109 Bar & Eatery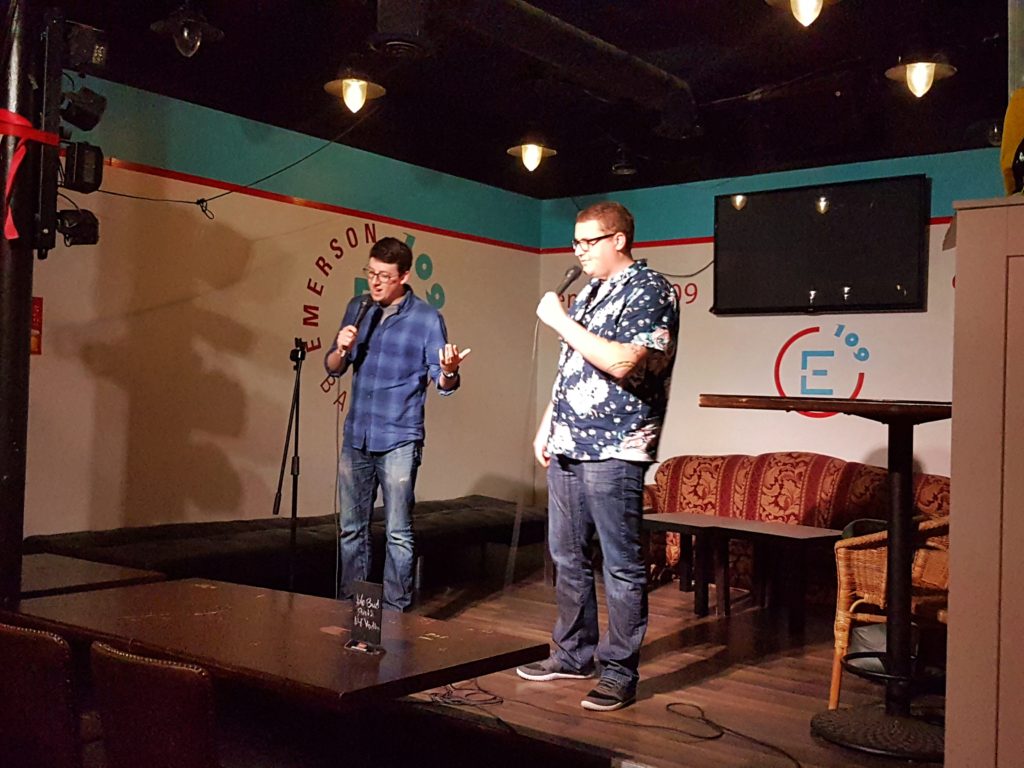 Tucked into the heart of McMaster's student community, Emerson 109 Bar & Eatery holds a weekly comedy night on Tuesdays. Originally started by Clifford Myers, the night is now hosted by local comics Mayce Galoni and Jordan Scherer. These two are no strangers to Westdale – they hosted "The Hamilton Comedy Hour" on McMaster's 93.3 CFMU for five years and I credit them with my intro to Hamilton's comedy scene.
Mayce is one of the youngest comedians on the scene and has garnered a ton of attention already. This year alone he recorded a comedy album, performed at Just For Laughs in Montreal, the Winnipeg Comedy Festival, and was a finalist in SiriusXM's Top Comic competition.
---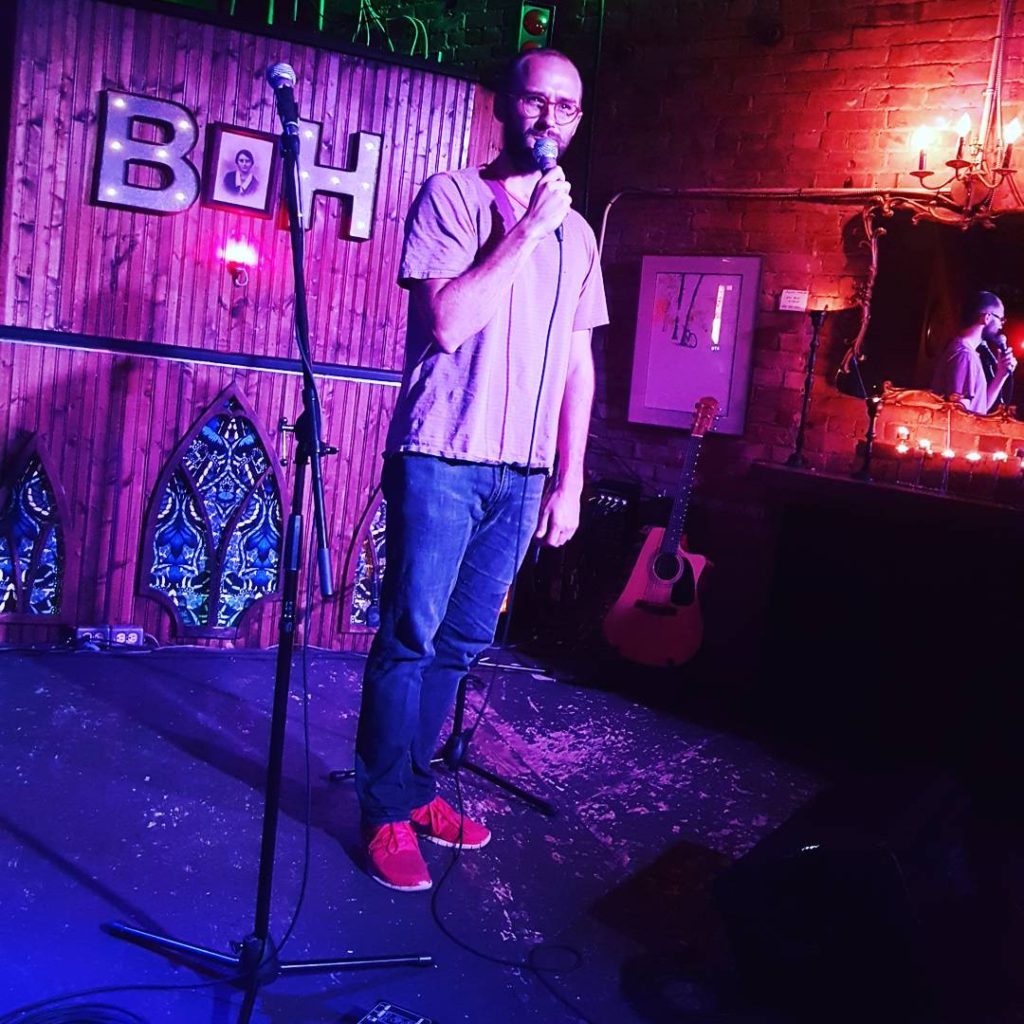 Open mic nights are where a lot of artists cut their teeth. If this is something you are looking to experience you have to try The Baltimore House's Wednesday Open Mic Night. As one of the venue's most popular nights, you know it has got to be good. Performers sign up in advance and often a more seasoned musician takes the stage later in the evening.
Smack dab in the middle of the open mic, local comic Kev Sheeler takes the reigns (around 9:30pm) to host an hour dedicated to comedy. It's a loose, fun set up and another awesome intro to some of the guys and gals who work the local comedy circuit.
Keep an eye out for comedy nights that Kev occasionally hosts at WORK (a fave food spot of mine) on James Street North. You'll also see him at Strangebarn's monthly comedy house shows.
---
Strangebarn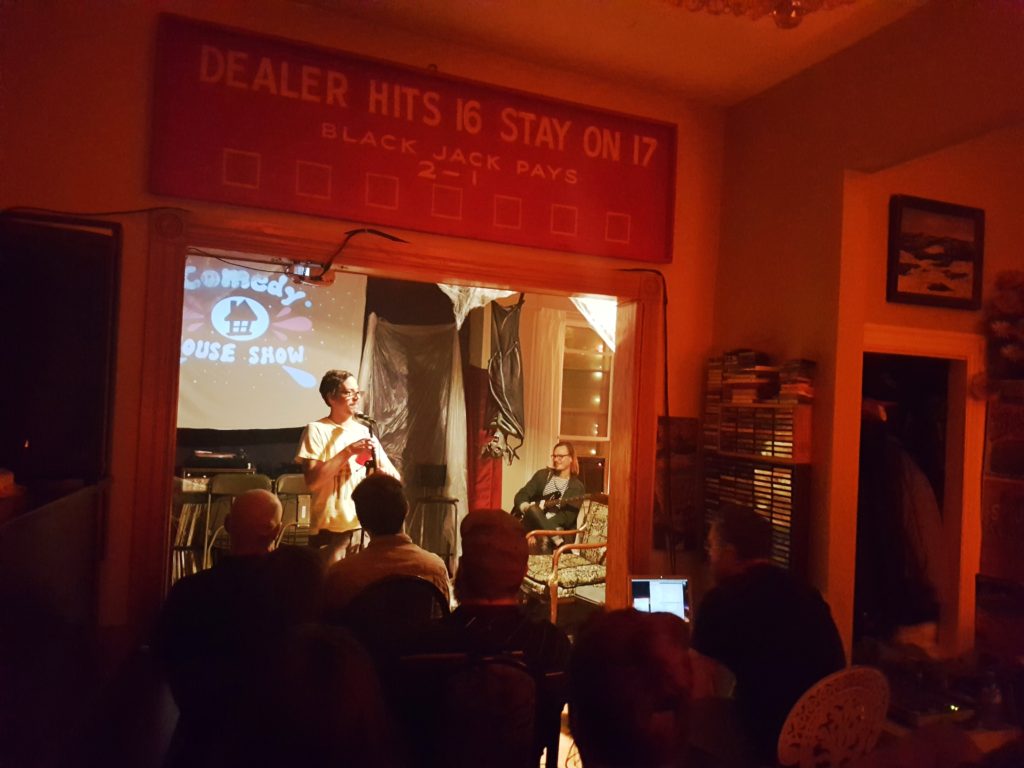 What is the elusive Strangebarn? It's a house in the James North neighbourhood – its residents host some pretty stellar house shows all year round, from comedy to music. I've been feeling some serious FOMO (fear of missing out) over not catching wind of this place sooner.
Local sketch comedy troupe Safety Zoo is a regular at Strangebarn, putting on a show that's a mix of sketch and stand-up. Being a house show, it's just inherently always going to be a party, BYOB style!
---
Comedy in the Creek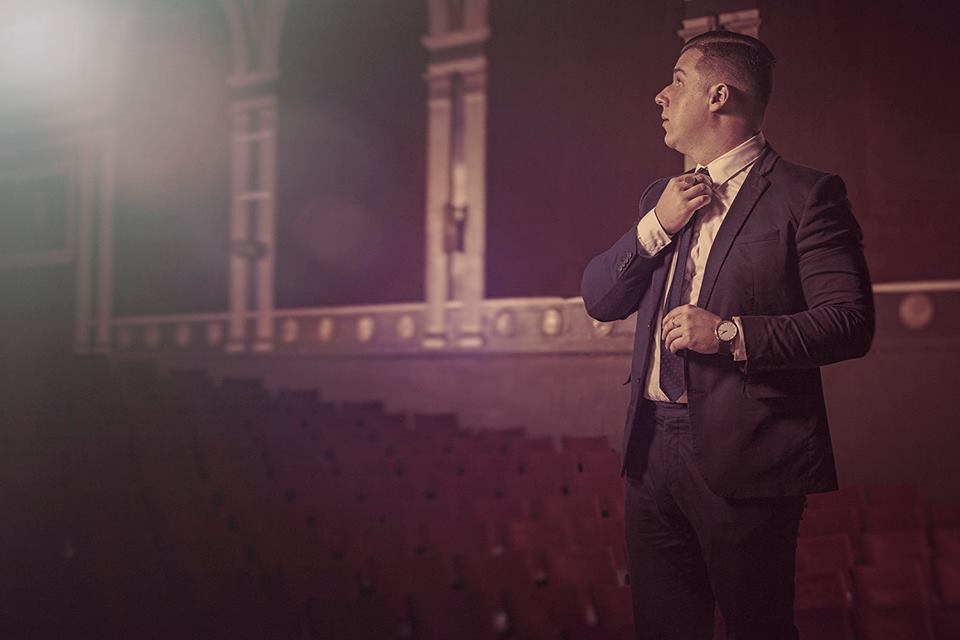 Downtown Hamilton is usually the go-to for nightlife, but east-ender Eric Johnston is proud to present a series of shows in the 'hood he was raised in', the monthly Comedy in the Creek at Lotos Sports Bar & Event Hall. Eric even filmed his own comedy special about that borough of the city, appropriately titled "I Grew Up Here."
---
Hammer Night Live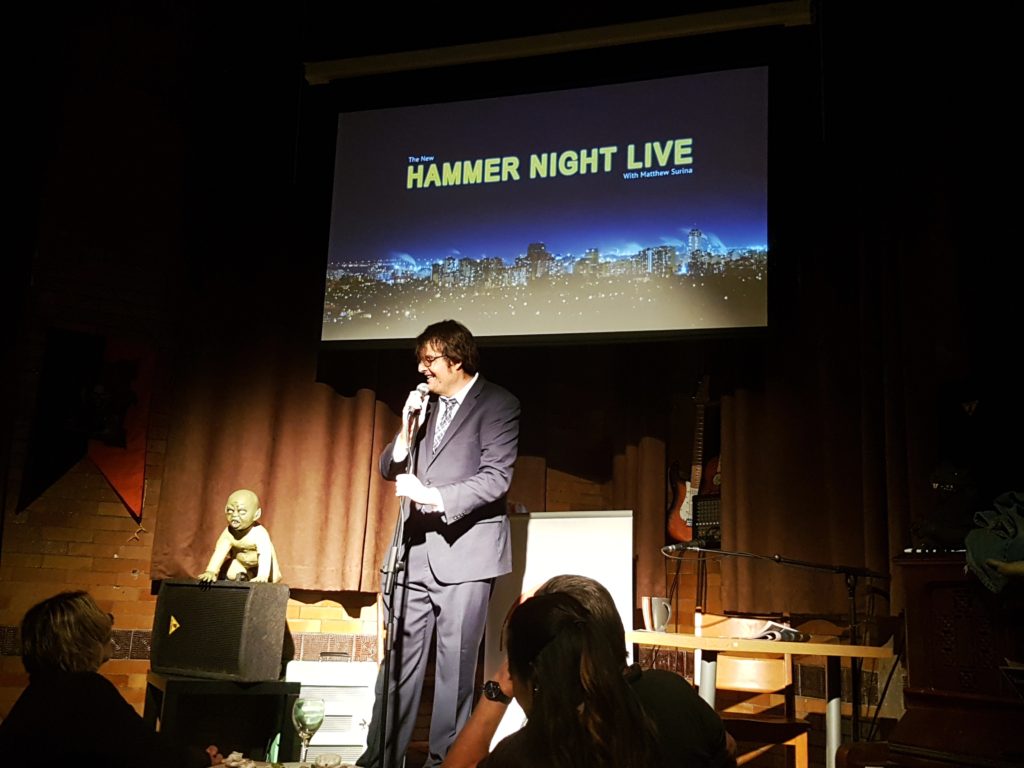 Sometimes you want to class things up a bit. Put on your best and take in a show in a theatre. Ok, these nights aren't that fancy, but one Friday a month at the eclectic Staircase Theatre, Matthew Surina of Hub of the Hammer Event Planning dons a suit and hosts Hammer Night Live. These events started up in 2013 and are a mix of comedy, talk show, and live music. It's a super fun format.
There are a ton of stand-up comics in the city, but we also can't forget about sketch comedy. Matt also organizes the annual Hamilton Sketchpack event which brings many of the local comedy troupes together.
Like I said, there are a ton of places to enjoy comedy in Hamilton. For more information on upcoming comedy events visit Tourism Hamilton's comedy listing by clicking here.
---
Kristin Archer is a lifelong Hamiltonian and the blogger behind the popular blog I Heart Hamilton where she inspires every local to "be a tourist in your own city." She's passionate about discovering her hometown, new experiences and sharing all that Hamilton has to offer. Catch Kristin Fridays at 2 p.m. when she hosts "I Heart Hamilton" on 93.3 CFMU and follow her on Twitter and Instagram. Kristin's #MyHamilton blog offers an insider's look at Hamilton's buzz-worthy arts and culture scene including James Street North staple Art Crawl, great music festivals and venues, outdoor events, theatre, dance and specialty shopping.