Over the holidays, I went on a few hikes on the trails near my home. Because of the spring-like temperatures, the waterfalls I passed were flowing pretty much as they usually do. But fast forward a couple of weeks and one big deep freeze instantly transformed the waterfalls into living ice sculptures.
Hamilton is home to over 100 waterfalls earning the city the title "Waterfall Capital of the World." The changing seasons alter their appearance in striking ways, making Hamilton's waterfalls some of the city's most photographed subjects.
In winter, the waterfalls are arguably at their most dramatic. After seeing some incredible frozen waterfall photos on social media, I recently decided to check out a few.
The words "polar vortex" and "Arctic air mass" might make it tempting to hibernate under a blanket, but if you bundle up, it's so worth it. I promise.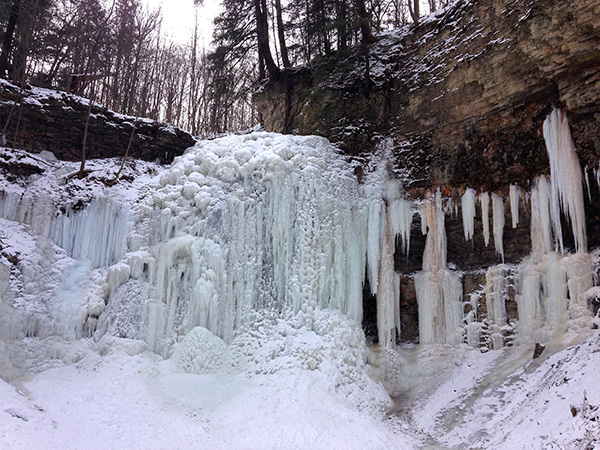 I started with the waterfall described as a "Game of Thrones-ish ice wall" in an issue of Toronto Life magazine. In fact, the publication named Tiffany Falls "the #1 secret to a happy Toronto winter" because it's the only scaleable waterfall that you can get to from Toronto in an hour.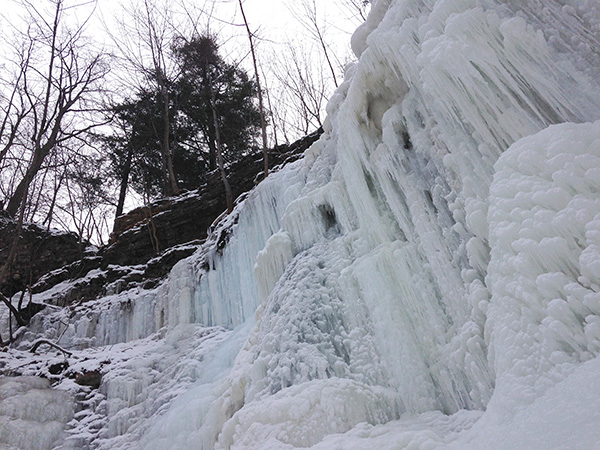 When I show up with my hiking buddies (my parents on this particular day) there are no climbers in sight. Nearing the falls, I can hear water running behind certain areas. You can tell by the striations – in some spots a delicate glacial blue, in others a dirty tan colour – that any fluctuation in temperature means this sculpture is continually evolving into different shapes. Make sure to stick to marked paths and exercise extreme caution around slopes, edges and other fall or slipping hazards especially in icy conditions when exploring the waterfalls.
My next stop is Webster's Falls, a family-friendly, accessible area that is busy on weekends. Referred to as a classical waterfall, it's the biggest and one of the most well-known in the region – the crest reaches 30 metres (79 feet). Here, the water continues to flow around the ice formations and the resulting spray creates a frosty glow on the surrounding trees and brush.
From it's a short drive to Tew's Falls. Tew's Falls is categorized as a ribbon waterfall. There are a couple of viewing platforms where you can get a really good view of the ice. Here, it looks like somebody pressed "pause" and the water simply froze in place, creating jagged icicles.
---
There are so many other frozen waterfalls I'd like to visit before they melt completely – Devil's Punchbowl in Stoney Creek, Albion Falls in Upper King's Forest Park and more. Visit the waterfalls page for more information on visiting Hamilton's amazing waterfalls.
---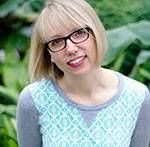 Tara Nolan is a Dundas-based freelance writer with a passion for exploring the outdoors. Tara loves to write about mountain biking, gardening and other active pursuits for a variety of print and online publications. Follow her on Twitter @thattaranolan and Instagram @tara_e
Her blog The Outdoor Explorer reveals Hamilton's stunning outdoor spaces, from nature trails and waterfalls to conservation areas, farms and gardens. Whether you want to walk, hike, bike or paddle, discover where to seek out your next outdoor adventure – all minutes from the city's core.